Distracted Drivers Cause Damage and Traffic Fatalities on the Rise
Distracted driving is becoming a greater threat.  With technology on the rise, and the need to always be connected, it is creating a standard need where drivers feel they have to use cell phones and other devices while behind the wheel.  Though drivers may feel they are capable of multitasking, such as talking on the phone, sending a text, checking email, and eating or drinking, it only takes seconds for an accident to occur.
Mastery offers a variety of distracted driving training courses for professional drivers as well as for the everyday driver.  The courses, "Driving Distractions of the Everyday Driver," and "Driving Distractions of the Professional Driver," give preventative actions and techniques for safe driving.
Several distractions that should be avoided while driving include:
Comfort controls
Reaching and leaning
Eating while driving
Technology
Exterior distractions
Pedestrians
Unfamiliar territories
Weather
The course "Distracted Driving: Real Accidents, Real Stories," tells real stories in which distracted drivers caused great harm,  under different circumstances.  Other courses to include for employee training on distracted driving are: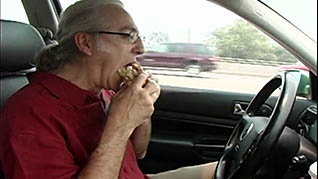 This article from EHStoday.com shares alarming statistics of the rise of traffic fatalities in the United States.  Until this past year these fatalities hadn't risen since 2005.  Implementing training such as Mastery's courses and staying up-to-date on safe driver information is key in making sure workers are safer on the roads; which in turn creates less cost to the organization due to property damage and medical expenses.