Employee Picks: Mike's Favorite Courses
Training helps us become aware of distractions or behaviors at work that hinder our ability to be productive. One of Mastery's account executives, Mike, shared his favorite e-learning courses geared toward equipping employees with the tools necessary to excel:
Mike says this is a, "good course… Many people accused of harassment in the workplace are unaware they are doing so.  This course helps people see what is and is not appropriate. Ultimately, you as the employer are responsible for the actions of your employees, and how those actions affect your other employees. "
Mastery offers a selection of training courses covering the issues surrounding harassment and employee rights.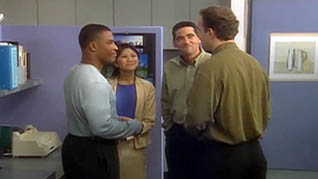 To Mike this course is, "a must see for Managers. We often don't realize when we speak to employees that the goal is to motivate them, not make them feel like subordinates.  This course will have you taking a closer look at how others perceive your role as manager."
There are a variety of approaches to being a great leader, explore some of these views with Mastery's library of leadership training.
Mike shares, " I think we're all guilty of taking a look at our phones from time to time when we probably shouldn't.  This course provides a good reminder that sending a text, updating our status, or even answering our phones in the workplace does not only decrease our production, but increases the probability of an accident."
This course provides excellent examples of how cell phones can be an issue within an industrial workplace. We have many other courses featuring manufacturing operations. If you don't have an industrial workplace, check out our other featured workplaces to see if we have courses showing your work environment.
Ensure your employees are trained in order to be the best, courses like these and more can be found by visiting, www.mastery.com or by calling 800-258-3837.