Occupational noise exposure: Protecting employees with PPE
Protecting employee hearing is perhaps not as obvious as blocking dangerous machinery, but it's an important priority in many workplaces.

Workplace dangers aren't always as obvious as moving machinery or extreme heights. Elements as simple as exposure to noise can have serious consequences for employees. As a result, employers have to take these risks seriously, investing in the proper personal protective equipment (PPE) and giving their workers all the help and information they need to protect themselves.
The dangers of occupational noise exposure are recognized and regulated by OSHA, which means there are hard guidelines for facility owners and managers to follow. As always, the OSHA rules are the minimum level of support – compliance is where hearing protection starts, rather than ends.
OSHA's perspective
The figures on workplace hearing loss are rather stark – OSHA stated that 22 million employees every year are exposed to noise that could potentially damage their hearing. Furthermore, not every leader has implemented appropriate programs to protect their team members. During the most recent year for which data is available, the agency levied $1.5 million in fines against companies without adequate protection in place.
The reasons for defending hearing are clear – too much exposure to loud noises can leave workers with lasting conditions, such as tinnitus or permanent hearing loss. OSHA reported that workers' compensation related to hearing problems pays out an annual $242 million.
In addition to laying out rules that require employers to protect their workers from the risk of hearing loss, OSHA notes 28 states have their own specific rules on ear protection. In all cases, these are more stringent than overall OSHA regulations. Depending on where they operate, companies may have to go beyond the federal baseline to keep their workers safe in noisy environments.
Fighting back against loud conditions
When workplaces are noisy enough to require action by administrators, there are several different ways to tackle the problems. Operational Safety and Health Magazine recently suggested a few of these methods, inviting leaders to see which elements of their practices are flexible. For instance, when only one part of a company's workplace is a noise hazard, managers can potentially rotate staff members in and out of risky environments to preserve their hearing more effectively. Furthermore, some loud equipment can be walled off from employees with barriers to reduce the sound to manageable levels.
The magazine added that no matter what experimental means companies take to make their workplaces less noisy and more hospitable, out-of-the-box thinking shouldn't come at the expense of workers. Monitoring noise levels and employee well-being is a huge priority, and when projects to reduce noise run up against their limits, leaders should engage in standard procedures such as purchasing and issuing relevant personal protective equipment (PPE).
Staying prepared and aware
There is a hierarchy of steps company leaders should take to protect their workers from loud noise. OSHA notes that changing equipment and administrative practices, in ways such as those described above, are the first steps in creating a safe workplace. In situations where it's not possible to get decibel levels to an acceptable range, PPE plays its role.
Devices such as earplugs and earmuffs are designed for use once administrative and engineering methods have done all they can. OSHA adds, when an employee already has hearing damage, companies should turn to PPE, even when other tactics are in use.
The battle against workplace hearing loss is an ongoing process, and there are new technologies constantly hitting the market. EHS Today reported that agencies OSHA, MSHA and NIOSH recently challenged equipment innovators with the chance to win prizes by developing new and better gear for workers in loud conditions. They came up with such solutions as wearable noise sensors and custom-fitted earpieces that cut down on noise. The creation of new hearing protection options is one area leaders can watch as they manage the safety of their workers.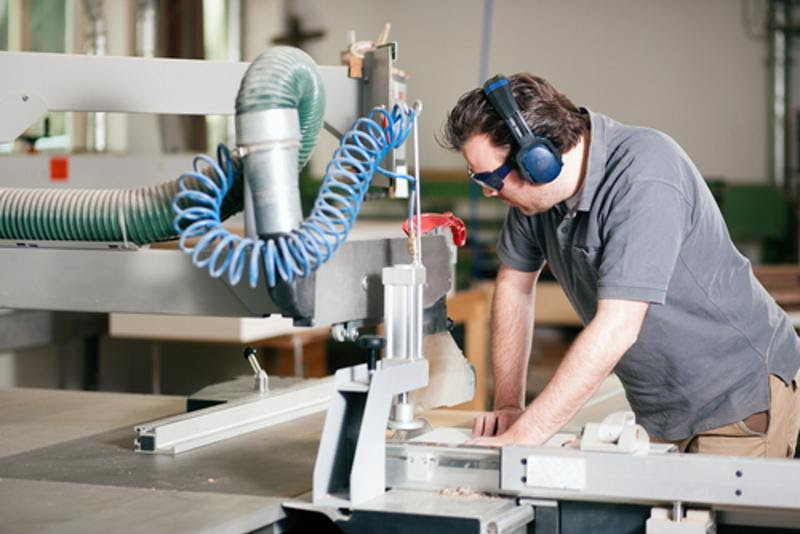 Training plays its part
OSHA described the training component of an occupational noise exposure protection plan: Employees should be aware of the danger their hearing is in when they work in loud environments, as well as the practices they should engage in to defend themselves. Rather than just making themselves aware of the risks, leaders should share this information with all members of the team.
Furthermore, when there is the need for PPE use, employees must receive training on this element of the program. Ear protection devices can't do their job if workers aren't using them correctly. Workplaces where hearing risks exist each have unique circumstances. It's important to select educational programs that cover all relevant areas for those particular needs.
MasteryTCN's employee safety courses on employee protection includes several video-based courses on hearing protection and safety. These cover the basics described above, stressing  the importance of hearing protection and describing the potential long-term consequences of improper procedures. They also show off the correct use of PPE, as well as briefing workers on how to watch for hearing loss risk, and the signs that damage is occurring. Demand for training on the topic remains robust – our most popular course of early 2017 is on hearing protection.
Source