Reduce Workplace Stress to Improve the Bottom Line
A positive work environment can improve employee attitude and motivation.
Retaining the most productive people on your team can always be challenging, especially if your workplace is stressful. When employees feel
stressed
, they're more likely to burn out and leave. By fostering a positive work environment, you can improve the attitude and motivation of your team members. 
Be Positive
Fostering a positive work environment can go a long way toward developing a more productive and loyal team. When there is good news, share this success with everyone. This positivity boosts morale, and also shows employees that their contributions matter to the big picture.
Show a Sense of Purpose
Employees at every level like to know that they're appreciated. Everyone from entry-level workers to executives appreciates having a clear understanding of his or her career path, to understand where the professional will fit in the organization's long-term plans. Providing a road map to promotion and success shows that your employees are not in dead-end positions, and it helps them to focus on the most important goals. Expressing this career path will improve morale, and give your team members a sense of belonging.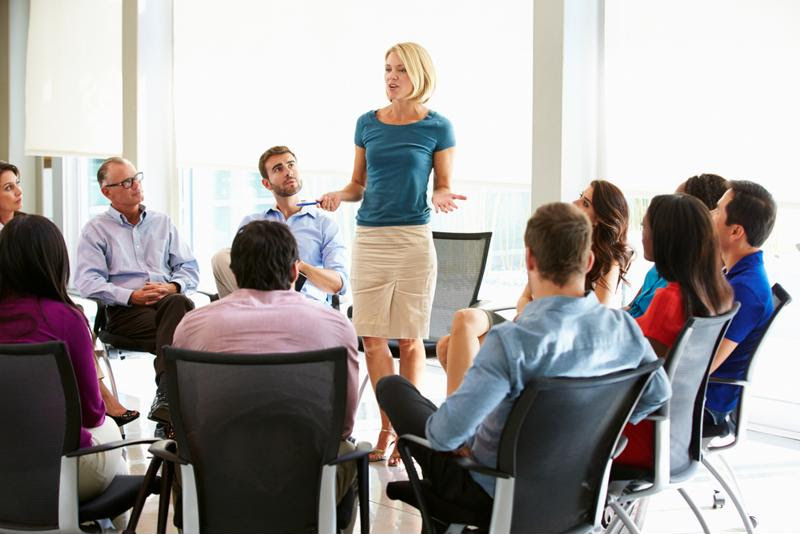 Keep an Open Office
Making yourself approachable and letting your employees know they can come to you with their problems fosters a more positive, transparent work environment. Amy Edmondson of Harvard Business School has demonstrated that when managers are approachable and encourage employees to be open about their concerns, their team members show improvements in learning and job performance. Be helpful and empathetic, and inspire your team to be the same.
Build a Comfortable Workplace
Your employees spend a lot of time at the office, enough that it's practically a second home. And a home should be comfortable. That means not going cheap on lighting or furniture. Poor lighting is bad for their eyes, and old, uncomfortable furniture can make it difficult to concentrate. Providing ergonomic work spaces and softer, more natural lighting can improve employee health and help reduce stress, allowing your team to be more comfortable and productive.
Know When to Cut Loose
According to the Harvard Business Review, fostering social connections at work can have beneficial results: Employees get sick less often, retain more information, learn faster, experience less stress and perform better overall. Company outings, happy hours and other opportunities to take a step back and get to know one another outside of work can help your group function better while promoting a healthier office culture.
Reducing stress in the workplace can help your employees become more productive team members. Are you ready to upgrade your training programs to boost employee morale and performance? Contact the Mastery Training Content Network for more information.
Source