Leadership Training from Video Visions Now on Video On Demand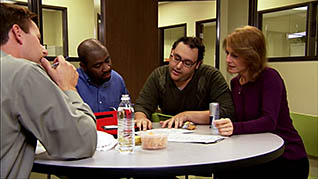 Earlier this week we released new titles from our newest content partner, Video Visions.  Video Visions, offers flexible, video training that is engaging and effective because the programs produced are produced to be realistic and represent modern business issues.  Common training topics include; leadership, customer service, interviewing, teamwork, communication, empowerment, meetings, and workplace violence.
This week's titles include:
Leadership: What's Trust Got To Do With It? – in this course learners are presented with five characteristics that must be maintained in order for people to trust you as a leader.
Virtual Meetings: The Invisible Meeting – this course thoroughly describes six challenges and rules in order to create effective virtual meetings.
Managing Me – learners become more aware of how the way you (the leader) react to issues impacts the morale, retention and productivity of the team; putting the initial problem on hold.
The Video Visions course titles are on our new Video On Demand (VOD) platform and play seamlessly on all mobile devices. These VOD courses are available for at $24.95 per play. Volume pricing is available for employers looking for a larger training solution.