Confined Space Entry Brings Serious Responsibilities
Confined space entry is a job that must be taken seriously.  Organizations must have proper procedures implemented for all their employees before they begin working in a confined space designated area.
Mastery's training course, Confined Space Entry: Out in the Open, goes through important information such as; what a confined space is, how to protect yourself, entry preparation, entering the space, and rescue techniques.
The characteristics of a confined space include;
not designed for continuous human occupancy 

large enough to enter and perform work
has limited egress, meaning it has restricted ability to enter and exit the space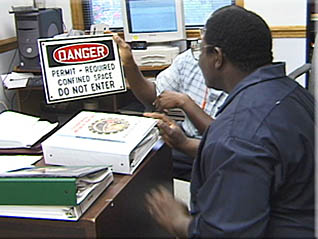 Though a confined space can be found in various areas, they all have a common theme, they can be extremely dangerous.  The course, Confined Space: Permit Required Employee Training,  thoroughly explains what the difference is between permit required entry and non-permit required entry.  OSHA provides their standards in relation to confined spaces.
With confined space entry comes the threat of many hazards.  Hazards can arise from, atmospheric conditions, engulfment, mechanical/electrical risks, moving parts such as rotating shafts, or mixing and cutting blades, and sloping walls and floors creating tight spaces.
These types of conditions can quickly become deadly, as found in a California Community Recycling and Resource Recovery facility; the story is explained here.
With a continued emphasis on the importance of training for working in confined spaces, employees will help to increase their safety in all realms of these high-risk job responsibilities.